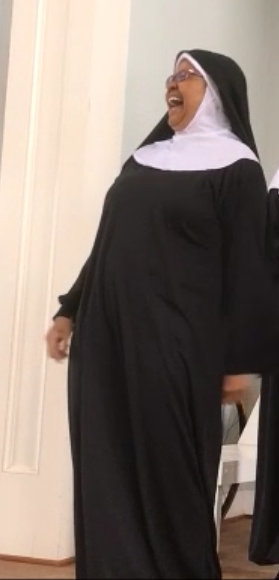 . . . entered the Little Sisters of Hoboken upon graduation from Precious Blood Elementary School. Sister currently serves the Order as Mistress of Novices, training new recruits. Her position is not unlike a drill sergeant, however, she is the first to point out that her approach is more gentle—but firm. Sister is a little "off-the-wall" at times, but this has been attributed to the fact that she was trampled by a camel that went berserk during the annual nativity pageant held in the leper colony. (She was portraying one of the three wise men.)
      Sister Mary Hubert is the former PEGGY ANSON.  Delighted to make an appearance in this production, this is Peggy's second foray into the world of "Bridgewater Theatrical Offerings." In 2008, she played Jezebel (no, it was NOT typecasting!) in the church offering of Women of the Bible which received rave reviews!  Last fall, she joined her fellow choir and instrumental musicians in the "Roots Rock Revue" — a tribute to the rock and roll era and which featured Pete Seeger.  Peggy loves the theater and hopes to see (and be featured in?) more productions in the future. She dedicates this performance to her mom, Hazel, who would have thoroughly enjoyed seeing her daughter in Nunsense.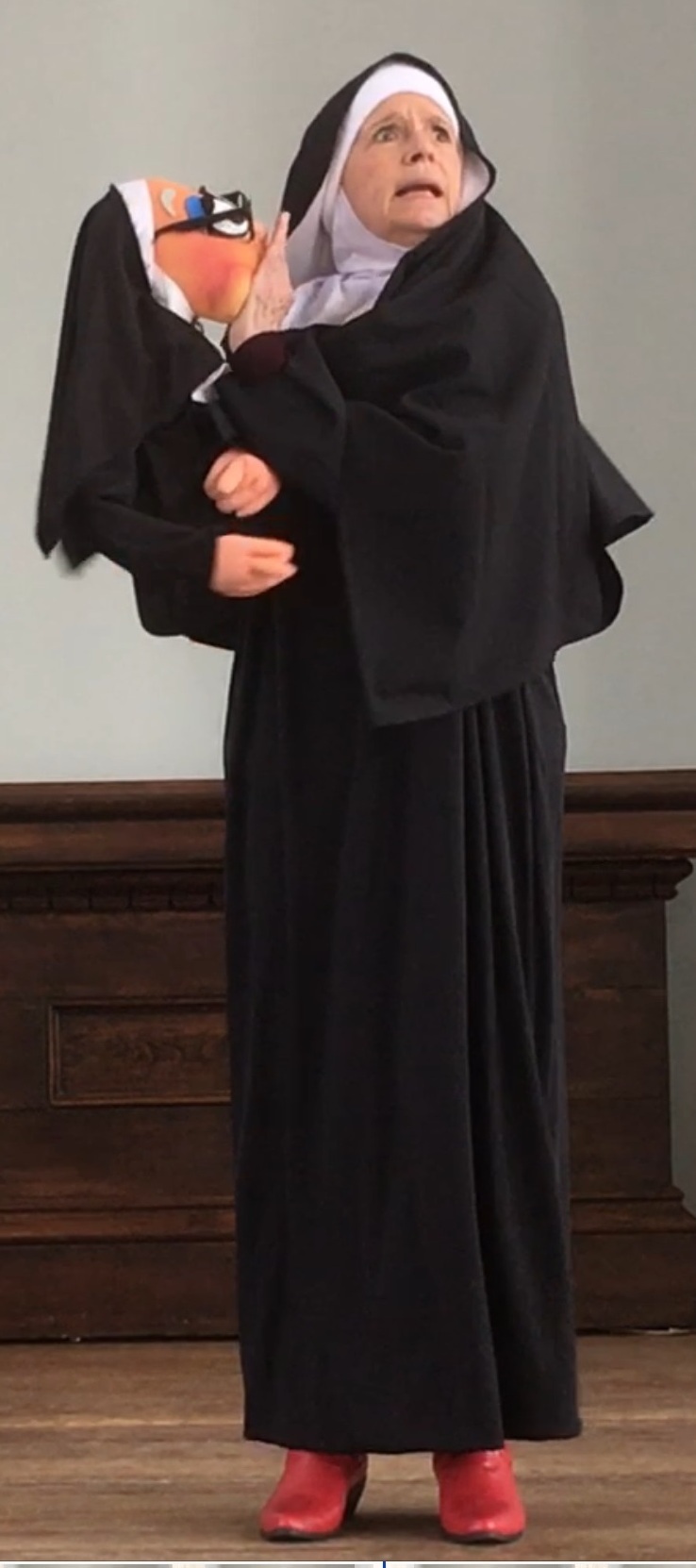 . . . is truly a lost soul.  She arrived at the convent in her habit without a clue as to her identity. . . recalling only that a crucifix fell on her head.  It has been said that she resembles LINDA BURTON, who learned ventriloquism when she became a Little Sister of Hoboken.

     Linda has performed in concert as featured soloist with the Pacific Opera at New York's famed Carnegie Hall, with the Danbury Opera, and in various recitals and programs with the Connecticut Conservatory of Music and the Singers Forum of New York City. She has sung the roles of Sister Constance in The Dialogue of the Carmelites, Guilietta in I Capuleti e I Montecchi, and Alcina in Handel's Alcina at many venues in New York and Connecticut. She appeared as Gabriel in Haydn's The Creation with the Kent

Singers. Linda's musical theater credits include Quilters, Lil in The Secret Garden, Eve in Women of the Bible, and of course her favorite role, Sister Amnesia in the Bridgewater Congregational Church's huge success, Nunsense. Linda is the Choral Director of the Bridgewater Congregational Church, leading the choir on Sunday mornings and for special occasions. She and her husband, Josef, have been residents of Bridgewater for more than 25 years and have 2 sons, Jeremy and Justin, and a daughter Alexandra. Linda is so happy to be performing with her "sisters" again!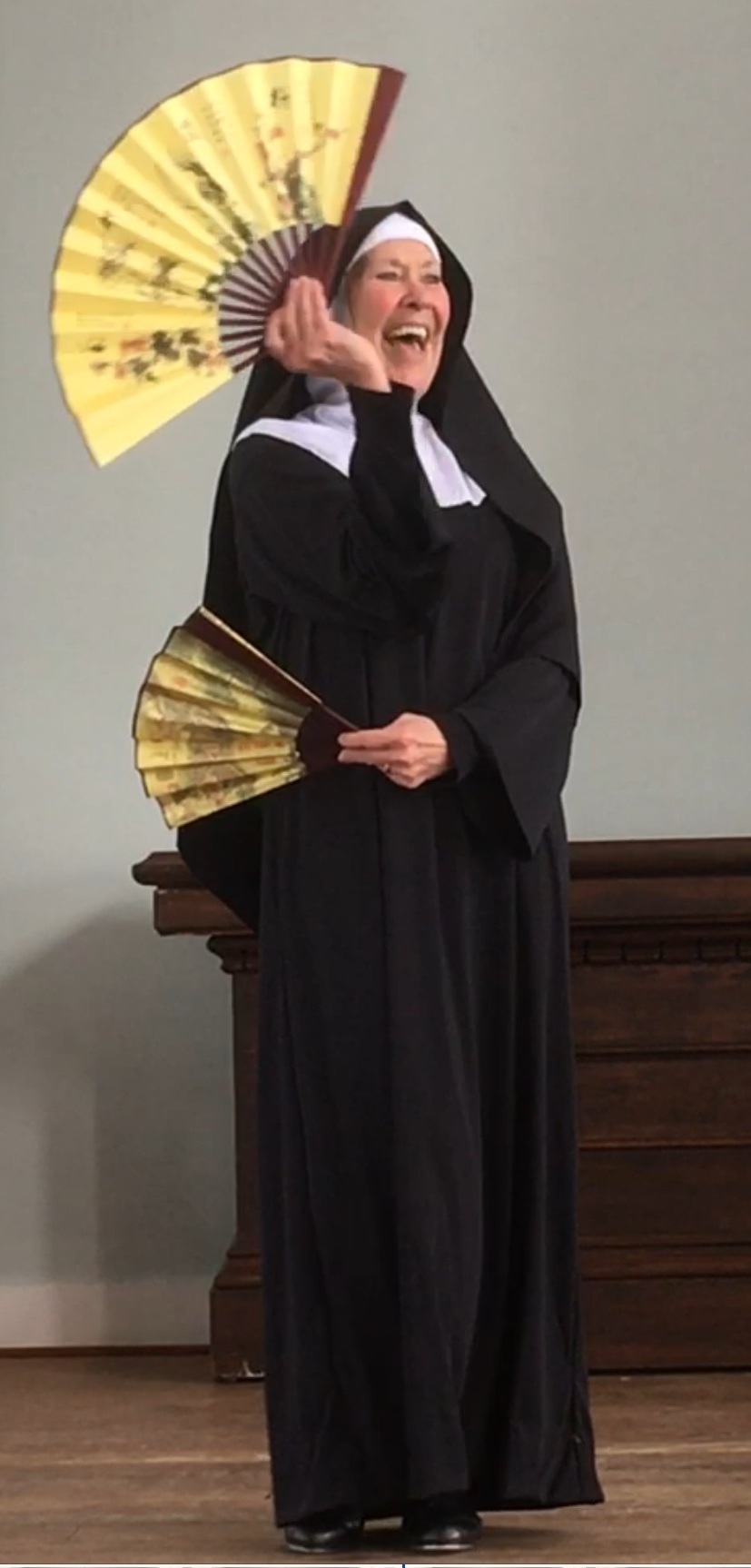 . . . the beloved Mother Superior of the Little Sisters of Hoboken, is originally from a small county in Ireland called Kilquirky, but she was raised in West Virginia.  She headed the pioneering group of religious who established the leper colony in the Mediterranean and later returned to Hoboken as Superior General of the Order.  Prior to taking her vows, Sister Mary Regina was known as SHARON HARVEY. Although Sharon always hoped to be a Superior Mother, she never seriously thought of becoming a nun. Prior to her stint in the convent, she was last seen as Noah's wife (what the devil was her name?) on a make-shift ark in Women of the Bible. Her family is her greatest pleasure in life.  She is married and has two wonderful daughters, and three delightful grandsons.  She would like to thank her husband, Bill, for helping with the show, and her daughters Kim and Melissa for always being encouraging and enthusiastic.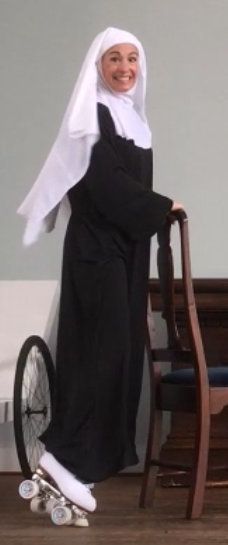 . . . came to the order from an Illinois farm. She entered the convent to dedicate her life to God through the dance. Many people think that she took her name from the famous "leotard," but that is not true. She is named after her Uncle Leo, a notorious Chicago gangster. Sister thought that by taking his name, the Lord would go easy on him. She is a novice and has much to learn. Before joining the Order, Sister was known as Nancy Hawley, who is delighted to be returning to the BCC stage, where she was last seen as Amanda, Nancy and Dora in "Love, Loss, and What I Wore" here in 2016.

      Nancy has performed at The Sherman Country Playhouse, The Brookfield Playhouse, and in the New Canaan Summer Theater.  She has served on the Board of Directors and Advisory Council of the Women's Center of Greater Danbury since 2007.  Nancy  has also volunteered for the Town of Bridgewater, and served on the Board of Finance for 7 years.

      Perhaps what she enjoys most, however, is lending her amazing soprano voice (she tried singing bass once, and it was NOT pretty!) to the talented choir here at the Bridgewater Congregational Church. A resident of Bridgewater for the past 18 years, Nancy

. . . was a child of a disadvantaged Brooklyn family. After dropping out of Verna's Cashier School, Reverend Mother took pity on her and accepted her into the Little Sisters of Hoboken, where she became Sister Mary Robert Anne. Today she is one of the most popular sisters with New Jersey kids because she speaks their language. Reverend Mother regrets the fact that a lot of this language is unprintable. Sister Robert Anne had a very checkered career prior to entering the convent, as Fran Kelly — known for her caring and generosity as a wife, mother, grandmother, wonderful friend . . . and nut!

     With thanks to her sister BCC Players who took a chance on her, Fran performed as Sister Robert Anne in three separate seasons, and we are grateful that she is returning to the stage to showcase her theatrical talent. 

shares her home with her husband David, and children Elizabeth, Katie and Samantha.  When she is not chauffeuring her children around, volunteering or singing, Nancy can be found on the tennis court.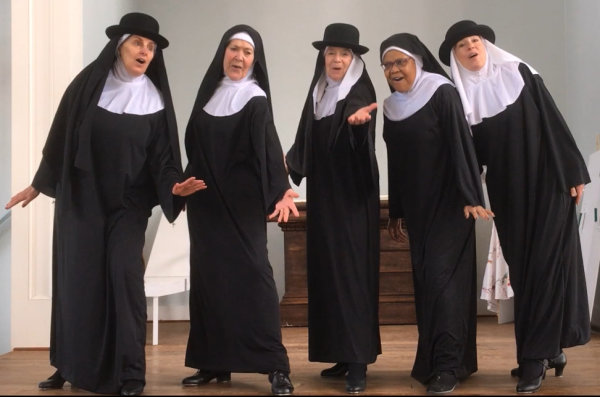 Fran shares her gifted soprano voice in the church choir, and is a 'bell ringer sub' and when needed filling in for regular bell choir members.  In addition to her singing and ringing talents, Fran is the official choir 'birthday baker' as she remembers and bakes a cake in honor of each choir member's birthday (she makes the BEST icing!).  Fran and her husband Frank reside in Bridgewater and have been active members of the Bridgewater Congregational Church for several years.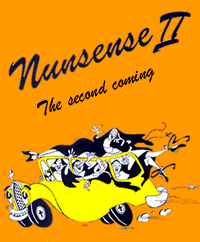 Nunsense II: The Second Coming
takes place six weeks after the sisters have staged their first benefit. The sisters are back presenting a "thank-you" show for all the people who supported them in the past. But now, they're a bit slicker, having been "bitten by the theater flea." Things get off to a rousing start as the sisters sing "Nunsense ---The Magic Word," but before long chaos erupts. Two Franciscans come to claim Sister Mary Amnesia (who has won the Publishers Clearing House Sweepstakes) as one of their own. At the same time the nuns hear that a talent scout is in the audience to see them strut their stuff. From the riotous bingo game run by Sister Amnesia to the hilarious duet, "What Would Elvis Do?" to the rousing finale, "There's Only One Way to End Your Prayers," this show will have you rolling in the aisles!